So, I want to start this off immediately with some pretty standard disclaimers and pieces of "common knowledge." One, I've never bloody well done anything like this but figured it was something that could be fun and it was time to try it out. What the hell, right? I've played the game for over two decades and have made it a side business to churn Magic cards on a TCG store so that the hobby (mostly) pays for itself to the extent that I play and collect it So, yeah, let's do a couple thousand words talking about this new set, Core Set 2021, to both those ends that I interact with them: from a Commander standpoint and from a bit of a financial standpoint. That makes one disclaimer being, "hey, I'm new at this, please be gentle" but the other is, of course, who the hell knows what is actually going on with Magic these days, right? Magic in general is already with whole kind of weird and unwieldy thing with how collectible it is and valuable cards have become, especially in the past couple years and even months. And now we're in a pandemic that has shut down major tournaments, leaving marketplaces erratic when it comes to supply and even the idea of PHYSICALLY PLAYING Magic an actual cringe inducing thought. On top of that, Wizards of the Coast is trying its damndest to milk as much as they can out of booster sales these days with specialty arts, frame variants, foil heavy "collector boosters," and even selling singles directly to consumers now with Secret Lairs. So that other disclaimer is, even if I were an experienced writer at this and with all these waves upon waves of... just, man, let's just say there's a lot of shenanigans going on with Magic these days so I'm just doing what I can here given my experience with the game an a pretty successful side hustle moving cards to keep my decks full of new hotness and my binders fully of staples that grow and feed the beast.
Anyway, yeah, let's do this and have some "fun" shall we, he says, famous last wordsing it.
I think what I'm going to do here is just kind of go down the line, color by color, and do every card that I figure people already have or should have an interest in for Commander and whether I agree with that summation or not and then a quick financial touch up if it deserves it, and then grab anything else that is out there that probably means something financially. So, at the top we have
White Cards!
Angelic Ascension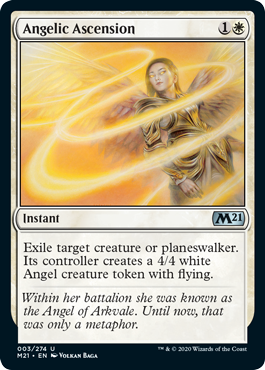 Do you like exiling your opponents' creatures with Path to Exile but hate giving them a land in return? Want to get a general (or an annoying Planeswalker) off the board but get the liquid shits at the idea of them immediately getting back half the mana they'll need to "tax" it back into play? Well here comes's Angelic Ascension, here to say "screw that land, give your opponent a 4/4 flying body that will take ten attacks to kill you anyway." Here's the thing, I'm not exactly sure how I feel about all that myself, mainly because the trade-offs leave me indifferent to the idea of changing the Paths I already have in something like seven decks of mine to this thing. I do think a body is a lot more innocent than a land, but an extra mana in the cost also is a chore. Leaving up one more mana can be a big deal in a tight mana turn if you're trying to establish yourself around that crucial five, six, seven mana spot when spells get bigger and badder. Sure, Angelic Ascension gets Planeswalkers too, but they mean so much less in Commander and for another mana you get something like Generous Gift that hits EVERYTHING for added versatility, even if the target doesn't get exiled. So, long way around, I think this is a good card, I could easily see myself running it in some decks; I could also see my apathy toward making the change leaving it so I don't change anything at all. It exists and if you think you actively like it as a replacement for Path, or as an extra "fuck yo guys" addition to the Plow/Path combo, do it to it, I'm not your dad (maybe). I'll be buying sets of them, myself, as a cheap "just in case."
Financial advice wise, there is none, it's a goddamn uncommon. Generous Gift is in near twenty THOUSAND (!!!) deck lists on EDHRec and is still like $2.50. Foils of this are like seventy five cents currently. Grab a dozen for ten bucks (foils I say because the normal version of this will probably just be in every Commander Precon with white in it from here until the Earth catches fire and humans go extinct) and see what happens. That's where I am with this card.
Yeah baby! One card in and I'm already at a few hundred words! Let's light this candle!
Baneslayer Angel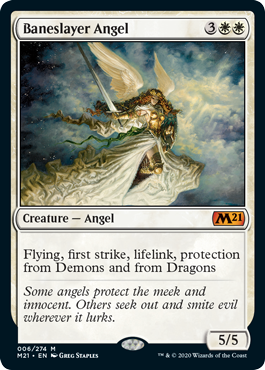 Yeah, this thing. I have this Bant "Holy War" deck that is heavily Angels and taxation effects in which this lovely 5/5 behemoth takes a place in the ranks. She's okay. She's great to tilt the Kaalia player at the table but otherwise, eh. And that's just the place Magic is in right now. Everything she brings to the table for 3WW doesn't mean what it used to back when the Slayer of Banes (RIP Jeep Swenson) dominated standard for fifty bucks a pop. She's literally 1/20th that price these days and I don't think that's particularly wrong or will change anytime soon. The game has just accelerated that much in power level since then, as I'll talk about more when I get to green and Elder Gargaroth. But, hey, she's still a classic for anything Angel-based so grab her if you never wanted to pay a ten spot for her before and want to save a buck or two as she slooooooowly creeps back up.
Basri Ket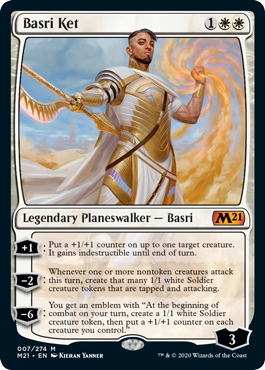 Planewalkers, bleh, amiright? They're creeping annoyingly to "skew almost every goddamn game" in standard but yet barely mean anything in Commander. And I don't think this guy will mean anything in either format and then some. A counter for an uptick is pretty bleh in any format and the minus-2 especially means nothing in Commander, as I don't think I've ever seen anything outside of my Elf deck that I never play go wide with anything BUT creature tokens, meaning that minus-2 won't generate anything. And that ultimate is the weakest sauce I've tasted in ages. Basri is the fresh face on the block in the White Planeswalker void left behind from Gideon's passing, but I think he's rotten in pretty much every aspect from value to playability.
Containment Priest
A great addition to every constructed format this card is now playable in, but also reprinted to the point that even with that uptick in usage as a "cheat into play" hoser in formats like Modern, I can't see this going anywhere money-wise with one possible exception. The Alt-arts (pictured above) are a fat dollar as I type this and that could be something down the road. At least it makes that version stand out and if there's any upward trend on the card I could see that meaning something, even if WotC keeps churning out reprints of the original and the usual, well-known art.
Mangara, the Diplomat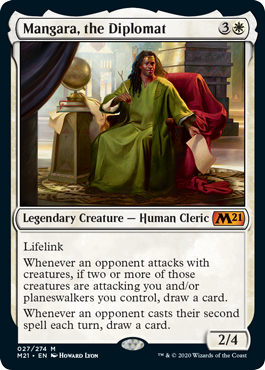 This guy. The literal yet not "Great White Hope" when it comes to that color seeing any semblance of card draw in the game of Magic. And I really like the design, as a starter. I think white being the color that kind of keeps people in check and gets rewarded for it, buuuuuuut the downside to that is you're hoping people think your cards are better than what they're doing. In mono-white, that's simply laughable most of the time, and I've tried me some mono-white before. Unless the threat is that you're drawing an extra half dozen Wrath-effects with those cards, your opponents are just going to not attack you until they know they can lethal you with their swing and not give you anything anyway. And chances are, if someone has something just THAT good to be doing they want to give you a card for casting a second spell in a turn, then it probably is that good. Mangara is good starter, as I said, but as the commander in a deck... nah. White just doesn't have that much mojo working for it yet. Mangara will be a great accessory in many decks, especially those controlish in nature, living up to his Diplomat title, but white as a whole needs something a little more revolutionary to get caught up with the other colors and their own brands of card advantage. He's seven bucks as I type this and, eh, that seems fair if you absolutely want to get on the white hype train, but I think in a few weeks you can grab this card when it's four dollars or so due to a little more flushness in supply and start adding him alongside stuff like Smothering Tithe as another turn around card for white as a color in Commander. He'll go up in price but I don't think he's going to the moon in either value or playability, despite the hype, unless the card goes just that long without seeing a reprint.
Pack Leader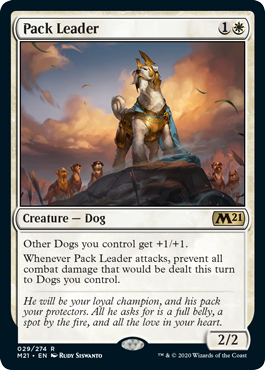 Speaking of revolutions, the Magic community would have you believe there's some great uprising going on here in the realm of domesticated animals put to cardboard. That now that they are getting some attention as a creature type, people are saying doggies are going to come and take the throne as "best bois" from the true kings of all they survey, cats. And those people are wrong. Bloody goddamn wrong, in both cardboard doggos and cats and real life doggos and cats. And believe me, I have both doggos and cats living in my house right now and our doggo, Cameron, is seventy pounds of big dumb lovability and I would shank goddamn anyone for him. But my ten pounds of feline princess, Selina, I would end worlds for, and she would remain indifferent to the whole ordeal, which is why I love her so despite being so beneath her. Her quiet loyalty is infinitely more endearing in how much she tries to NOT exude it, but I see through her act.
And in the aspect of Magic: the Gathering, dog cards are currently like the coiled poops they leave in the yard and not even worth comparing to where cats are as a tribe in the game. Hell, I made a cat deck several years ago to try and lure my wife into playing the game and cats as a creature type were absolute litter box filler back then, and they still were superior to what dogs as a type are currently packing, even with the mass errata of making all Hounds printed over the years into Dogs. Pack Leader here is a great start to the money-printing shift that is WotC realizing cats are popular AF and there's next to no dogs, so let's make some adorable mutts and get softies like myself buying them. But the tribe has a LOOOOONG way to go on the whole. Cats as a tribe just became playable-to-good in the past three years after a dedicated effort to it via the Commander 2017 precons and Amonkhet had some purrfect (sorry) additions as well; so it's going to take a while for these good bois to get to their level.
This is a good start though, as a "Lord" for dogs with a very relevant ability as more dogs (and assumably more lords for dogs) start arriving and you start combining them with the usual suspects of cards like, say, Vanquisher's Banner that pump your team, give you card advantage, etc. Buy a boatload of these for forty cents each, pat them on their heads for being the good puppers they are, and then shove them in a box for like four years and you'll probably have a couple dollars profit per copy on your hands. It's not a giant windfall but it's an easy "set-it-and-forget-it" gain with minimal investment. Who's an easy gain with minimal investment?!? That's right, you are! Such a good boy, here's a treat!
So, alright, that wasn't too terrible, I think. I've written shorter articles before that took a larger time investment while writing about other subjects, so at least this came kind of easy. I'll get back in a couple days with Blue and then if I don't hate myself too much for how I'm pulling off this exercise, I'll keep going with a new color every couple of days after. Thanks for stopping by! Cheers...