LAST COLOR! THANK YOU THE LITERAL TENS OF YOU THAT HAVE READ THIS STUFF SO FAR!! WHY AM I STILL YELLING?!?
Azusa, Lost but Seeking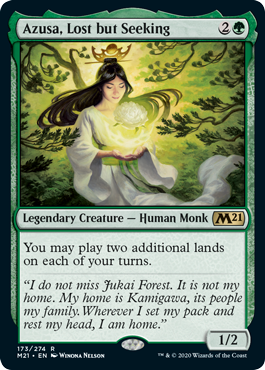 Everyone's favorite legendary creature to dump a hand with and then pray you actually bothered to have a card draw effect to put more ham on the table. This reprint, financially, is a bit of a mess because now Azusa has a good bit of printings going for her and her land slamming, but they are from the following: A set fifteen years old, a Masters set, and a Judge promo. So while she's no longer the forty dollar uber rare she used to be, I still am not quite sure we'll see a bottom on this newest printing sub-five bucks or anything, which would be a real sexy price point. In fact, as I've reiterated a lot doing these pieces, I don't think it's going to be very long before we're at the bottom of this set between Covid shutdowns and the lack of in-store/convention center play and Jumpstart just around the corner to take the hype off this set. Seven dollars may be as cheap we ever see Azusa (until the next reprint, natch) so we're probably already pretty close to "buy her if you want to play" her when it comes to purchasing the card. The extra fifty cents to a buck you could maybe save in like a month if you wait to buy probably isn't worth just not having the card. It'll take a while for this to rebound to anywhere near the, say, mid-teens, but if WotC leaves it alone for a few years after doing three reprints in four years, she will get there. Commander players love slamming lands and she has enough fringe Modern play in
Primeval Titan
variants to fuel demand on a long enough timeline.
Elder Gargaroth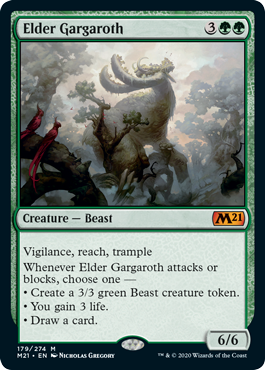 When I saw this card spoiled, the sixteen year old in me that cowered in fear from conversing with girls and just wanted to get home and play Final Fantasy 7 leaped for virginal, ache covered joy. And then he remembered that this is 2020, there's a pandemic about, I have a mortgage now, and a 6/6 creature with SIX FUCKING ABILITIES FOR FIVE MANA!!! isn't particularly great anymore in the game of Magic: The Gathering. Upside to this card, Commander is such a thing now and there's always so many threats on a board there actually is a chance you may get to do something when you drop him on the table. As big a cost-effective body as this guy is he still needs to attack or block before you really get any value out of him and somebody is always pooping big dumb nonsense on the table around turn five, so you have a chance Gargaroth here becomes a low priority and you get a chance to swing with him. So, yeah, this guy is five mana's worth of awesome and I have a newly built "Monster Island" deck I can't wait to get him into, but I don't see the card having any dollar value worth anything outside of Commander play and even then he's too expensive now as any sort of investment at eight bucks. If the bottom completely falls out on this card- and I think it kind of has to given the lack of overall playability - then I love him for a "little kid" rebound at some point, but what remaining Timmy hype is out there will probably keep him at several bucks for a while. I'm basically staying away from this card completely for a long time, outside of the Extended Art copy I got for Monster Island, of course.
Feline Sovereign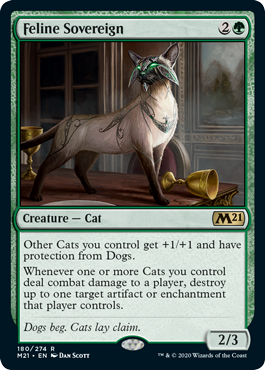 Big ups to whoever designed this latest addition to Magic's best tribe, from the proper amount of feline eminence depicted on the card, to the "fuck yo stuff!" nod to the cat's ability to destroy your artifacts shown on the art. This card is on point and a welcome addition to cat tribal. It's also already fifty cents, so that's a default "just buy a bunch and throw them in a box somewhere" signal there. Cats are popular enough that even Prowling Serpopard is a freaking five dollar card these days, and as cool as uncountable kitties are, Sovereign here does so much more in a cat tribal deck. You could say it's the Purrf.... y'know what. Not doing that. Moving on.
Garruk, Unleashed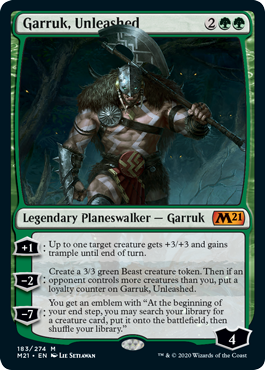 Not only do I not think highly of any of the new Planeswalkers in Core 2021 that aren't T
eferi, Master of Time
, but I think this particular version of Garruk is one of the most boring versions of him ever. Not even just talking for Commander purposes, where as I've said many times by now, PW's are already somewhere iffy plays, but even for constructed play a four-mana Planeswalker that giant growths and makes a beast or two before getting put down is just not where I want to be in the slightest. Sure, the ultimate is game breaking so the old disclaimer of "this plus
Doubling Season
means I win!!!" holds true since Garruk, Unleashed can ultimate on the spot in that scenario, but that's about the only deck-type I see anyone playing M21 Garruk on a Commander board.
Heroic Intervention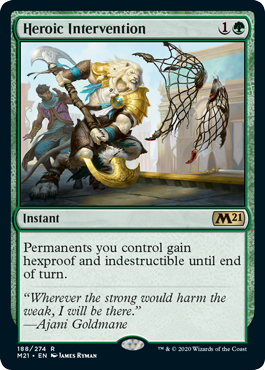 This card is like Garruk, Unleashed in that he's "no-fuss-no-muss" analysis, but in the complete opposite direction. Heroic Intervention is a Commander stud and this reprint is both much needed and also just a speed bump in its growth. All that needs to be said about this is the standard: "Wait until it bottoms out and then buy the unholy hell out of it." I'm not sure where that bottom will be, it's already pushing toward five bucks so I feel like four(ish) is the mark, so when that curve hits around there, buy the hell out of this. I'll probably be in for a couple playsets myself, just to have all my deck building bases covered because I'm a sad, lonely man with more decks than sense.
Jolrael, Mwonvuli Recluse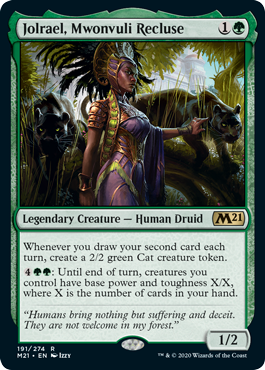 From what I have seen between streamers playing Arena standard and pro players commentary on social media, Jolrael here is the breakout card of Core 2021. Not necessarily value wise because she's only about a dollar fifty in value (though, to be fair, that's about triple her initial price last weekend) but as far as love of her for constructed she was pretty much the talk of the town this past week, despite little fanfare around her during spoiler season. Hindsight being what it it is, I don't know how the power of this card couldn't have been more obvious. You think about what players are doing in any constructed format and it's what players are always trying to do in any format, draw cards, which is Jolrael's jam. Standard is absolutely flooded with value cards tied into card draw right now with
Growth Spiral
,
Hydroid Krasis
,
Uro
, etc etc still dominating the field, at least until September rotation. But even without those Ravnica staples going away, something will fill the void and it's not like formats below Standard will be without stuff that can easily trigger Jolrael for huge value for a low cost. Given the print run of something like a Core Set it's not like this, as a rare, is going to get astronomical, but if Jolrael is indeed a multi-format all-star there could be some value here financially. Even as a legend you want this affect down as soon as possible so she's probably going to be a three-of, maybe even the full boat given her fragile power/toughness combo, so if "Jolrael plus Serum Visions or Brainstorm" becomes a hot commodity in those Eternal formats, I could see this getting there. It's a sketchy proposition now given she's up a buck to $1.50 than she was a week ago at a whole fifty cents a pop, but five dollars isn't unreasonable for something that has legs all the way down to potentially Legacy.
Llanowar Visionary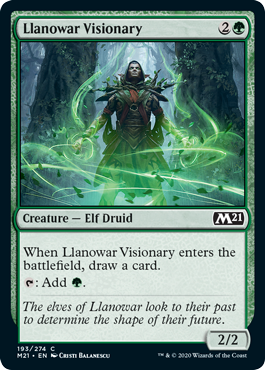 Elvish Visionary
and a
Llanowar Elf
got all "white girl wasted" on elven wine and made a baby that they'll have to live with for centuries because of their ageless nature and lack of access to contraceptives out there in the forest and I love it. There's no value to be had here, but even as simple a design as this card is, I find it amusing and am glad it exists.
Scavenging Ooze
Like Heroic Intervention and Azusa above, this is yet another stud Commander reprint that both bottoms out the price and makes the future rebound nebulous. Heroic Intervention at least is an easy call on its potential upswing because it's got half the printings that Ooze and Azusa now do, but ScOoze is that damn good and will definitely recover some; plus being Pioneer playable now should help as a key graveyard hoser in the format. I personally am buying the alternate art because, well, I love it, but also if there's any gain to be had on a card like this it's in something that differentiates it, as this art style does. It's not much but any little edge helps.
Aaaaaand that's the colors of for this Core Set in the bag. I'll do Artifacts, lands, etc sometime over the weekend and, yeah, this has been a thing. Much obliged to anyone who checked this out and hopefully there was some useful info therein. Cheers!