Last time! Possibly forever because I think I may have sucked at this! Maybe not but more "will I have time to do this all the time when the world returns to normal???" type thing! Exclamation points!!
Chromatic Orrery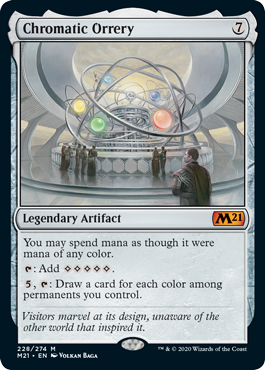 So, when this card was spoiled I watched Commander-centric forums and content creators go nuts over the thing. "Auto-include in five-color decks!" "What a ramp bomb!!" And I just went... "Huh?" I didn't get it then and I still don't buy it not, figuratively for the card's potential and literally for the price tag of nine buckaroos it currently holds. From the outside this does look like a hell of a card. Mana fixes, could mean huge card advantage if it sticks around a turn or more, almost pays for itself when dropped on the board. And that's what I don't like about it. This is a seven mana card that's all about "could." Yeah, it gets you five back after you pay seven mana for it, but you're still playing five mana spells when everyone is playing their true haymakers in your usual game of Commander. Yeah, it fixes your mana for all your five-color bombs, but
Chromatic Lantern
does that for four mana less and there's plenty of mana filtering effects out there. And, yes, if you get to actually pay five mana into this and tap it, you could be drawing five cards a turn with your, I dunno,
Horde of Notions
on the board. Or your board could be extinct and you get nothing. Or this becomes the prime target to become a 3/3 Beast from a
Beast Within.
When you're tapping for seven mana you need to be resetting the board in your favor with a
Ruinous Ultimatum
or a
Cyclonic Rift
, or dropping something that is designed to get you instant (or near instant) card advantage like a
Sepulchral Primordial
Chromatic Orrery is a big, complex wish machine for seven mana; a wish that the five you get back on the spot is good enough to hold your position while everyone else is playing bombs or multiple effects and that it isn't a casualty of any of those shenanigans to MAYBE have a permanent in play that makes the card draw effect of this worthwhile. And, yeah, that's just too much for me to buy into. Not at seven mana, not at eight dollars, probably not even at a cash amount that is anything but less than half that amount. I honestly think this may be the biggest dud in the set and it's not even close, but I could be and have been wrong before.
Mazemind Tome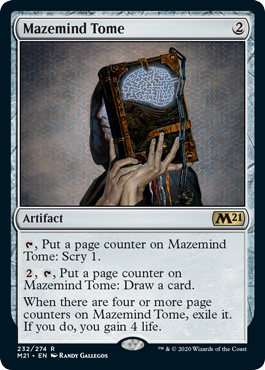 Now this card, this I think is low-key real good and could become a sly investment for Standard, if we ever, y'know, see paper tournaments again. This card reminds me a lot of
Treasure Map
with it's cheap mana investment and incremental card advantage. Now, it doesn't ramp you at the end of the line like Treasure Map did after getting you three Scry's, but Mazemind also doesn't cost a mana a pop to get those Scry's. I can see control shells loving this card, even if all you do with it is Scry four times to make sure you hit land drops or get to a much needed Wrath-effect and then the life game at the end isn't insignificant either. And even late game sinking two excess mana a turn into extra cards to pull ahead can easily be the difference in a game. I dunno, I just feel that this card is so rock bottom right now - basically fifty cents a pop - and Treasure Map in its prime was legitimately pulling nine dollars a copy. I don't think Tome here reaches that kind of heights, but if it gets to even half that you're talking something like $2.50 profit per copy after fees and shipping. I like this as a "penny stock" buy in if you're willing to take the chance that ten bucks gets your forty in a few months when standard rotates and you can get some deck upgrades or what have you with your "flip."
Solemn Simulacrum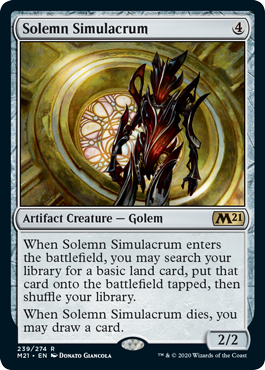 "Sad Robot" (now turned into "Pointy Robot" here with the new card art) has been such a perennial Commander staple that every year it has seen a reprint in a Commander pre-con deck and every year it has rebounded back to the price it was the year before. But a Core Set reprinting is WAAAAAY different than a forty dollar pre-con deck and it's going to be a curious exercise where this card can get back to, but I'm damn willing to try it. Like I said with Scavenging Ooze when I talked about that in the Green cards section, I like the alternate art version of this card as a sort of "differentiating" hedge on the value of the card, banking that a vastly different art presentation than all the other somber bot versions out there will mean more if/when this card rebounds. In general, though, this is an unbelievable, rock-bottom price at currently a dollar that at the least it should be taken advantage of just to have a plentiful supply in case it gets back to the roughly five(ish) bucks this card usually commands, but even failing that because of such a big supply influx this time around, I feel like it hits three dollars or so and you still save yourself some money. And if you bought in like I did on release weekend when the Alt Art variants were a whole buck-and-a-quarter each, that one will be a huge pile of "fun" to watch, as well as an experiment if alternate and extended art cards do indeed have extra growth potential because of their uniqueness.
Sparkhunter Masticore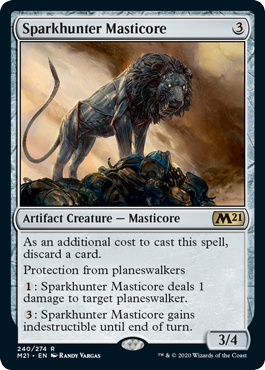 The obvious observation from this card is that it's an acknowledgement by Wizards and their design team that "we done @#$%ed up!" when it comes to the power level of Planeswalkers and answering them. And it's, yes, an appreciative nod because they have screwed up and PWs do dominate slower formats like Standard. But old Sparky here I don't think is the answer to the problem, not really at all, even though it does have many much printed text and does a lot of things. The biggest problems with this design, in my humble opinion, is that the discard effect and the cost of the indestructible activation are too expensive. The card has to at least take a Planeswalker and a creature or two of one of those with it in order to make up for the card disadvantage of putting it into play, and because it only pings for one damage at a time or requires you to keep a bunch of mana up to make sure it survives combat and I just don't think you're going to get there, or you're going to cost yourself a lot of tempo in the process. And, hell, it doesn't even do anything about the most burdensome Planeswalkers out there. Like, sure, great, you can drop him after a
Teferi, Time Raveler
hits and finish him off if you were on the play and they down-ticked him for the tempo advantage. But what does this guy do about
Nissa, Who Shakes the World
, who throws blockers in front of him for days and requires a minimum six activations once she hits the table and that will probably take two turns to achieve? You're setting yourself behind so much on mana on top of the discard effect to play this guy that, yeah, I just don't buy this as an answer to anything. Maybe it shows up in a SB slot or two here and there but I think it'll see such little play that even at its like, forty cents right now I'm not really buying.
LAND TIME!!
Animal Sanctuary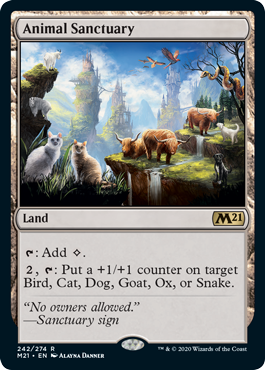 This card is adorable and you should buy every damn copy possible and it has kitties and everything and it'll only go up! Maybe. Probably not. But, hey, cats and dogs are a thing, and even though I think this is a pretty heavy investment resource-wise - the two mana and a tapped land investment that is - just to put a counter on a kitty or doggo, it probably just ends up going in those decks simply because it says "dat" and "dog" on them (and snakes aren't a tribe to sleep on either, honestly). So, sure, considering it's a forty cent card right now, feel free to have at it if you want to, I've spent Magic money on weirder, but I do think there are better penny stocks in this set and would target them first since they'll probably grow quicker than this one.
Fabled Passage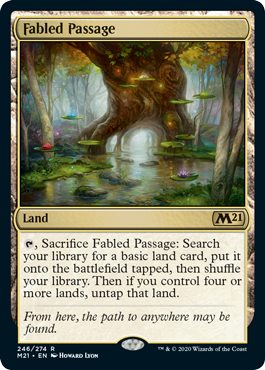 One of the most shocking reprints in a set full of a good bit of them, Fabled Passage showing up again so soon after its debut in Thrones of Eldraine just the Fall of last year was a pretty good jolt of surprise. It's also, I believe, a statement that this is the level of Fetchland that Wizards is happy with being in Standard as a color fixer in the format. And that's why, from an investment standpoint, I'm not really in on this little number here. Sure enough, if you need them for decks and want to play with them, buy buy buy, this is the lowest they've been ever and the lowest they will be until they hit reprint again, which I would actually put money down on being this time next year in the next Core Set. But you can now buy a playset of these for the amount of money a single copy would have cost you around last November, so buy the crap out of them if the main reason is to play with them. Speculation-wise, though, I'd put my money any number of other places with this set.
Enemy Temple Cycle
Speaking of places to put your money!!! Yeah, not here. These lands will be a buck fifty forever from now on. The reprints are just that heavy and I also think that Temples, like Fabled Passage above, are probably just the supplement to whatever new hotness dual land Wizards has selling sets in Standard from now until the sun expands and envelopes us all.
Ugin, the Spirit Dragon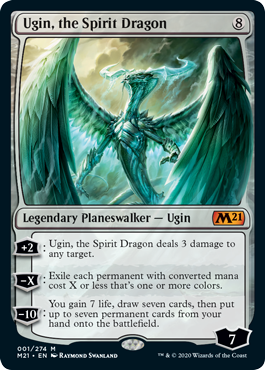 And, lastly, big Ugs is back again, and he's here to probably be infinitely more relevant than he was the first time he showed his big, horned head in Standard. Back in that version of the format, ramp was nowhere near as plentiful as it was, meaning that Ugin was explicitly a top end "game ender" for control decks and that was about it. In today's standard, though, dominated currently by
Growth Spiral
and
Uro
currently, and with
Cultivate
and Solemn Simulacrum coming to make up the difference for the rotating Spiral, it's not going to be uncommon to see this guy hit the table as quick as turn five. In fact, if my experience with Standard on Arena the past week has been any indication, turn six Ugin is what like half the decks in the damn format are aiming for and they will damn well hit it most of the time that ramp is so plentiful. And not just plentiful, but plentiful and with cantrips usually attached to it meaning you'll draw big Ugs just in time to drop it then, interaction from you opponent pending.
Now, what does that mean for pricing? Well, what it means is that whatever drop you would have expected to see something like this decrease by because of the volume of this reprint I think will be stifled by that play. Before this cards' value was based totally on being a two-of in Modern Tron and EDH demand. Now it's actually going to see play in Standard and I think that'll buoy the drop a bit. Also, as I've said a ton by now, there's the pandemic factor and the concept that we're not going to see this opened much more than it has been by now. I've been watching the prices on this card, and in particular the Alternative art editions since I have a thing of those, and I've seen that the normal version of the cards has slowed its downward trajectory a good bit, the "Showcase" version (which is the art with a translucent border so you see the full art) just finally dropped below thirty dollars and I don't think it's going much more below that, and the Borderless version has basically hit its bottom already at thirty-five. We really are at bottom or getting there for pretty much all copies of this card and I do think this is a case where the alternative arts are going to be crowd pleasers and see a little bit of a quicker rise when this card starts a true rebound due to the niche that they fill. If you are a fan of those art variants, your buy in time is pretty much now as a bottom and you can probably save a couple dollars one normal versions of this card if you want to wait a little longer and get closer to a world where Covid isn't inhibiting LGS play and you can jam them in you little, oh so creative, "Spiral, Uro, Ugin, go" deck, you Simic bully you.
AND THAT'S IT!! I FINISHED A SET!! AND ONLY HALF THIS WAS PROBABLY ALREADY OUT OF DATE TOWARD HOW THE PRICES FLUXED THE PAST TWO WEEKS!!! LOUD NOISES!!!
Thank you for reading, I may do this again with Jumpstart, except that I don't actually think there's really a lot of financial analysis to be gained with that set because so much will be riding on just when and how much supplemental waves of it will be hitting shelves after the initial shipping and yeah. Magic is just a mess right now, you all. Do with it what you can to enjoy it, lord knows the world is chaotic enough as is out there. Be safe and thanks for reading!