Alrighty then, let's continue this exercise in "what the hell am I doing" and talk about some Blue cards from Magic: the Gathering's newest set, Core Set 2021. Like last time, I'm just going to talk about stuff that I think could/should affect Commander (because it's the only format I play besides Arena limited drafts) and ones I think could mean something value wise (most likely because they could mean something to Commander, the #MTGFinance gift that keeps on giving). And on to the (probably excessively verbose) show!
Discontinuity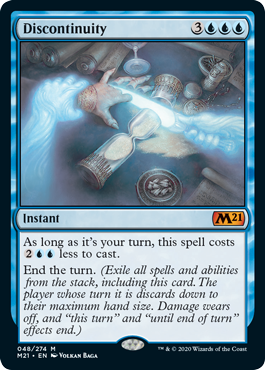 Never in all of my games of Commander have I ever wished I had a
Time Stop
, but a couple times I've lamented not drawing my
Sundial of the Infinite
because I'm playing something that temporarily steals a creature/permanent on my turn and don't want to give it back, or I'm trying to avoid some other sort of "End of Turn" trigger. That is very much a fun and interesting deck-build and more effects like the Sundial are always welcome. But, is another one of them enough to make it fully a thing people want to do more often? It kind of has to be because Time Stop on its own isn't exactly an effect people are gagging for more of if you look at both its price and EDHRec registry. So, nah, I'm not buying this in Commander, at least not anytime soon because I think we need to see this effect on 2-3 more cards before players start buying into it as an actual archetype you can play and loop, but I do wonder if the's world where this essentially becomes
Nexus of Fate
in a world where people are both playing physical Magic again and Pioneer as a format actually bothers to have the (much needed) bans it has to have to get out of the rut it occupies. This is already down to $3ish, if you're feeling frisky to either of those scenarios I think you'll be able to buy these for, like, $1.50 a pop in no time, but I think you'll have to wait quite a bit for either of those realities to come to fruition, if they ever do.
Shacklegeist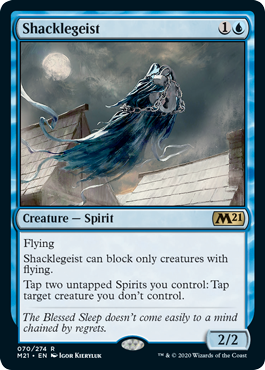 I only want to talk about this card because Spirits was the only Modern deck I ever owned back when it was actually somewhat viable as a "50/50" against most decks in the format with good Sideboard options and there's a solid shell for them in Pioneer as well. But also to note that even if that deck finds viability in both formats again once constructed Magic is back to being a thing again, that key pieces of it were always dirt cheap.
Rattlechains
was like a buck before its announced Jumpstart reprint and it's clutch for the deck in both formats. So, yeah, there's probably no future for this card money wise but I do hope it helps revitalize that tribe in competitive formats; the tapping ability it adds to the mix of a deck that was very much "kill you out of nowhere" with its tempo plays should give it some mojo working again I would hope.
Stormwing Entity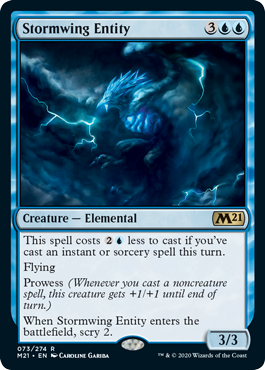 Holy crap, a second card in a row I want to talk about not for Commander purposes because Stormwing Entity's chances for that format are about as good as getting the 'Rona in a Florida restaurant (sorry if the truth hurts) but I do think this card is a hoss. But this 3/3 Flyer for almost always 1U seems like a damn behemoth in multiple Eternal formats. I've been messing around with it in an Izzet shell in Arena Standard to get daily wins when I need them and it's already a wrecking ball there - even if the deck overall is just a pretty okay "blitzkrieg" thing that gets me a win 60% of the time in Best-of-1's - and as pushed as Standard has been in recent years it still has nothing on the level of cards like
Lightning Bolt
,
Brainstorm
,
Manamorphose
, et al like Legacy and Modern have. Storming Entity is already a fifty-cent card as everyone races to the bottom with this set release; I feel like it's a very nice "penny stock" if you want to put $10 into a half dozen playsets that could easily become three-to-four times that if we get back to a world where really good tempo beaters can rip through a constructed format.
Sublime Epiphany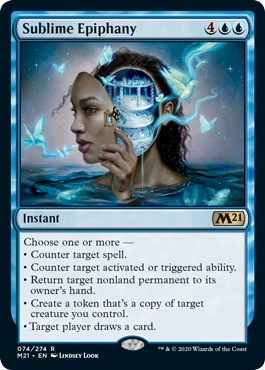 Modular spells are great. A lot of the hands down best cards printed in Magic the past several years have earned a high play rate because of their multi-functionality. The "Commands" from Dragons of Tarkir, Collective Brutality, Abrade, etc etc. If you slap a lot of quality options on a card at a cheap to at least modest cost, chances are it's going to see play in a format somewhere. Six-mana for Sublime Epiphany here is neither of those. There are a lot of great options here on Sublime Ephiphany, don't get me wrong, but six mana for them even in a "long game format" like Commander is a big time investment. I have a few decks with several counter spells in them and, to start, the cheaper the better has always proven itself to be true so that you have options open besides just holding mana up for a counter spell and, next up, the first tier of counters you absolutely want to be playing -
Counterspell
,
Mana Drain
,
Fierce Guardianship
, etc - all seem pretty locked in for being what they are, and its rare I ever find myself playing more than, say, eightish counter spells in a deck so that I have room for the real meat of the build. I'm just not sure I'm buying into the playability of this card, I think you're still better off with your counter spells topping off at two modes from Cryptic Command for 2 mana less or getting three of Mystic Confluence's abilities for one less, especially because I doubt you're ever pulling off the pentfecta (is that a word?) with all of Sublime Ephiphany's modes because I don't think it's going to come up that many times you're able to both counter a spell and a trigger at the same time while racking up the other three modes, which are pretty well locked in as definite hits. Obviously, I'm staying away from this investment wise as well, unless it sinks sub a buck at peak supply and I'm feeling frisky.
Teferi, Master of Time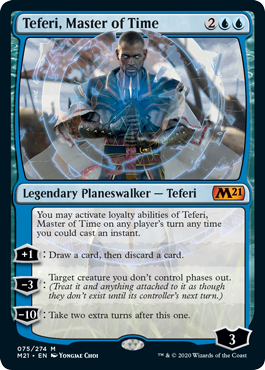 The face of Core 2021 and, honestly, the face of Magic pretty much since he phased back into our hearts and minds with his standard dominating 3UW version in Dominaria, Teferi has his third, non-Planeswalker deck card since his return. And it's a damn doozy, because of course it is, all Teferi knows how to do is make waves (hah! Get it?? Card art pun!). Obviously the big hype around Mr. T this time is his being the first Planeswalker ever to be able to active his loyalty abilities on EACH turn, meaning that he scales with the amount of players at the table and, therefore, is pretty much the first Planeswalker not one of the ten previously printed Planeswalkers you can play as your General in Commander to be more or less designed to be better in Commander than in Constructed. Especially when you really look at the card, because his +1 and -3 abilities are really just kind of okay. The card draw only breaks you even since it's a "looting" effect and Teferi using phasing to remove a threat, while deliciously on brand for Magic's Idris Elba stand-in, also doesn't really net you any advantage on the board beyond saving you some damage or saving Teferi himself from an attack. But, being able to grind through all of those several times as the board passes can net you such incremental advantages that before you know it, if left untouched, someone is using that -10 to do the real broken stuff at the heart of the deck.
Now, that said, money wise I don't think there's any good news about this guy outside of selling him absolutely now if you opened one this past weekend with set release. The card is good but I don't think he'll do anywhere near the dominating his
Hero of Dominaria
and
Time Raveler
versions did on Standard the past few years and, as I said before, him not really gaining you an advantage like those two variants did probably removes him from any serious Eternal play. So, all his value hinges on his Commander playability, which is high!, but since he's just a part of the 99 and you can't really build around landing him every game like you would his
Temporal Archmage
version from several years ago. Between that and the goddamn twenty thousand art versions this card has via the Collector Boosters for Core 2021, I think the future of this card is an absolute nebulous mess outside of "you can probably buy it for a good ten bucks cheaper than it is now if you have the patience" because I don't think it'll have anywhere near the legs of his more powerful predecessors. Long run, maybe, I dunno; like I said it's kind of hard to gauge because Planeswalkers in general are so much more fragile in Commander than anywhere else. If anything, I think I like Teferi's affect on other cards more than anything, as his plus one means a ton more when you're, say, doing it twice every single turn with his own
Oath
(which is sub a buck right now) and means you can hit is ultimate in just one pass of the table and the next and final card I'm about to talk about today, Teferi's Ageless Insight, which means that instead of looting with Teferi every turn you're netting a card each time. I like these cheap effects way more in the wake of Teferi and the potential that Teferi's "every turn" shenanigans could come out again on future Planeswalkers if WotC is feeling frisky about selling some packs.
Teferi's Ageless Insight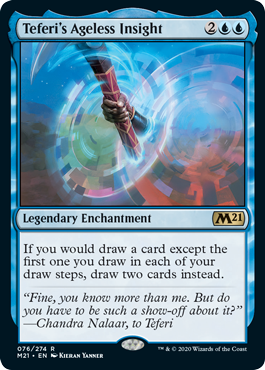 Okay, so this card, this card I absolutely love. This ability seems so innocuous but it adds up so quickly. Yes, it's just one half of
Alhammaret's Archive
- a card in 10,000+ decks and that was $20 before a Mystery Booster reprint - for one less mana, but that ability is what people really play Archive for, even if life gain is a thing in some circles and generals. And it's not like being color locked is a huge downside either; Blue is the color you're trying to take advantage of this card in to begin with, making your
Stroke of Geniuses
or
Pull From Tomorrows
double up on the X, or gaining every bit of extra advantage with wedge generals containing Blue like
Gavi, Nest Warden
gain just that much more damn value. Yes, it's in a Standard set so a ton of these are going to be opened, but a ton of
Guardian Projects
were opened too and it's a $6 staple already in these pandemic times. Now, the actual buy in on this card will be a little wonky and you'll have to watch out. I bought a ton this past weekend as they were a whole sixty cents each in the initial feeding frenzy but they've doubled since then. As a rare though, you should have time to see it dip below a buck again but I think you'll have to pay close attention because once it's there it'll probably get pounced on and never be cheaper than $1.50 again and just keep moving upward and onward. You may have to settle at a buck a copy being the best deal you see on these even from now on, but even if that's the case I think you're looking at a solid triple or quadruple up even from that point if you missed the absolute basement. Everything is so damn weird right now in this Covid-era of Magic in general it's hard to tell but I think it's pretty clear this card will be a gainer.
YEEHAW!! That's another color down. I may not suck at this (I totally do) but at least they're flowing pretty freely. Another color in a couple days. Thanks for reading. Cheers...