LET'S DO THIS AGAIN AND KEEP WORKING ON SUCKING LESS AT IT!!! TWO COLORS TODAY BECAUSE BOTH WERE KIND OF "EH"AND DIDN'T HAVE A LOT I THOUGHT WERE WORTH WRITING ABOUT!! WHY AM I YELLING?!?!?!?
Archfiend's Vessel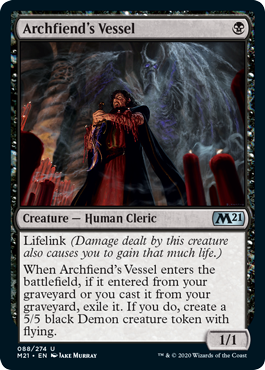 Honestly, I just think this card is fun. It almost makes me want to play Eternal Constructed formats just so I could go something like, T1 Stitcher's Supplies, T2 Unearth this, die to a Fatal Push anyway, but regardless, that just seems neat. That kind of play line makes me feel like this sees some play in formats like Legacy and Modern, but obviously it's Commander play is going to be nil. Again though, neat card is neat, it could end up being a thing, maybe foils aren't a terrible idea if like penny stocking things in case that kind of deck build goes off somewhere.
Grim Tutor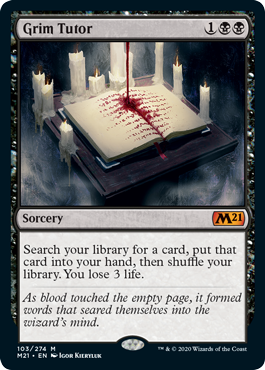 Alright alright alright. This is a spicy meatball. Down a whopping 90% from it's price tag of $200ish dollars before this reprint was even announced, Grim Tutor was an exercise in just what two decades of scarcity could do to a card. And now that it's here the main questions about it are how much do people even want this card and where does it go from here? The answer to that, I think, relies a bunch on just what people want this for and how much they want it to that end. Obviously, that's how, y'know, every goddamn card works and I just spouted Econ 101 gibberish there.
But here's what I actually mean by that line of "well, duh,": When I see people talk about this card they seem to always be calling it the "cheap alternative to
Demonic Tutor,
' a card that, even after several reprints in the past couple years usually runs you about thirty dollars for a copy and is one of the most played cards in all of Commander because of how simplistically powerful it is. Pay 1B and go get anything you need. Simple and one of the most effective things you can be doing. And now Grim Tutor is here and does the same thing, albeit for one more mana and a three life investment, which means nothing in a format where you start the game at forty life instead of twenty. And financially it's half the price of Demonic Tutor and so fresh on the market in a big set as a reprint it should only go down from here so, yes, it is definitely more budget friendly alternative to its Demonic big brother. The thing of it is, though, and this is how I think of this card now that it's fresh with a reprint and greater level of affordability, I don't consider it a "bargain Demonic Tutor," which goes in every single Commander deck I own that has Black in it, I think of it as a "super bargain Vampiric Tutor," which also would go in every single Commander deck I own with black in it because I like to have redundancy in my decks, except Vampiric Tutor now pushes a hundred dollars each.
I think that's the real future rub of this card here. For sure there will be a good bit of demand for it because it is a worse Demonic Tutor but for currently half the price, and I think that demand will stop it from going below a price range somewhere in the teens. But, the future of the card I think lays in the hands of people who want their deck to have a little more power and flexibility to it and want this card because it's eight-five dollars cheaper than Vampiric Tutor and they don't mind paying twenty bucks more than a copy of Diabolic Tutor for the upgrade. I know those people exist, they flat out do because I'm one of them and have a lot of common consensus to this line of deck building logic in my playgroup, but are there enough of us out there that Grim Tutor here hits, say, thirteen dollars and then goes back up to thirty and matches Demonic Tutor in price? No bloody clue there, mate, sorry. I feel like this card gets you back something like ten dollars a copy if you buy at the bottom and I really don't know where that bottom is but I think I'm close with saying low teens. In the COVID-19 era of MTG, "peak supply" is like barely a month from release if Ikoria's curve is any indicator and especially with Jumpstart nipping at the heels of Core 2021 here to quickly absorb any remaining hype for this set. So, yeah, long way around, I think "buy at $12ish and watch it double up" is the most likely line for this card, and I also think that the Alternate art foils are going to age fantastically no matter what, but they're already fifty-six and I don't see them dropping too much more either.
Massacre Wurm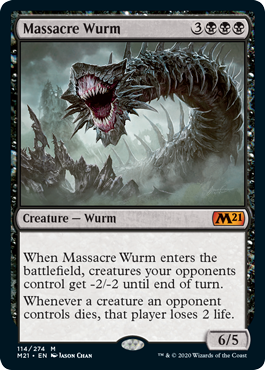 Whew, okay. That last one was a train of thought with probably a car too many, so I'll keep this one simply: Massacre Wurm is a Commander stud, it's already sub-five dollars, just buy them all. Obviously, it's probably got a little more to drop since it's so fresh, but like I said in that last heaping bowl of word soup, peak supply in the pandemic and "let's put out a set every other goddamn month" eras of Magic is, like, three weeks from now, so don't wait too long. I also really like the Alt Arts of this card, they look fantastic and aren't too far behind the pack art in price, and foils should be sub-ten dollars soon. I don't think you could go wrong with any version of this card but I just happen to like Alternative versions of cards a little more now that reprints are a little more plentiful in Magic; I personally think it helps cards stick out as special going forward. But that's just me, buy what you will and I don't think you lose in the next couple years.
Vito, Thorn of the Dusk Rose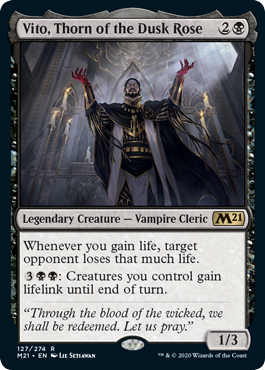 The first vampire in Magic's history hailing from Jersey, this blood-and-marinara loving vamp will be an instant-hit for that tribe given that he's one of the most popular Commander cards in the color black,
Sanguine Bond
, on a body. He's an instant include in vampire tribal decks and anything that does have a life gain them and packs a solid amount of creatures to benefit from his lifelink-gaining ability. That said, that's what he is, a rare that will be a a welcome addition to a tribal deck - but not always a showpiece, since
Edgar Markov
builds still mostly win by overwhelming the board - and a Oloro-like decks and I don't know if that will be enough universality to get him to where Sanguine Bond was in its heyday, which was about ten bucks before it got hit with something like three reprints in the past four years. He's three dollars already and I'm sure the players of decks I mentioned above are already rushing to get him now, maybe he drops another dollar and then starts to rise again. If he doesn't see a reprint in four years like it took Sanguine Bond, I could see him getting back up to something like triple the bottom, so like five or six dollars.
RED CARDS!!
Brash Taunter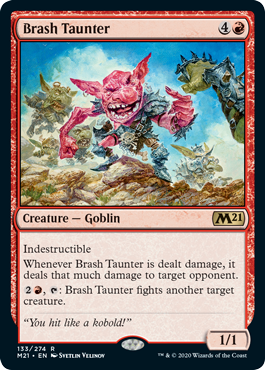 So, this guy. This guy is adorable. I mean he's hideous, like myself he's got a face only a mother could love, but I think the idea of a
Stuffy Doll
that forces a fight with another creature is great. Sir Stuffs-a-lot is expensive but I think he warrants a slot in both decks that would want another Stuffy Doll - since this is an effect we don't see often and redundancy is king in Commander - and Goblin decks will find a place for him. That fight ability could easily end games that are starting to stalemate a bit, making the biggest threat on the board fight this guy and sending five or six or more damage back at its owner and then letting your goblin swarm dismantle the rest of their life total (or vice versa with Taunter dealing the finishing blow). Now, I don't know if that means this guy will be worth month; Stuffy Doll has only two printings and is worth a whole five bucks, but the Goblin type could mean something. Regardless, I just think this guy is fun and he's bargain basement right now on pricing; maybe he gets up to a couple dollars at some point.
Chandra, Heart of Fire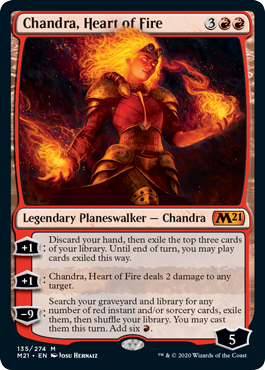 Moarrrrrr Chandras! Again, four colors in, I'll reiterate that outside of
Teferi, Master of Time
, I just don't really see the Planeswalkers of Core 2021 doing much of anything. Chandra here is nice, she does what a Chandra does and gives you some of red's patented "exile off the top" based card draw and the "ultimate" may be game ending - at the least you're grabbing an
Insurrection
, maybe there's a combo of cards I'm not thinking of that just blows the table apart - but the middle ability is pretty much useless in Commander outside of picking off stray utility critters like
Oracle of Mul Daya
so, yeah, she exists basically. I don't really think she does anywhere in constructed formats either; five mana is too expensive to then not really get to take advantage of that first plus-1 and I don't think a
Shock
as the other really gets you there or manages the board at all. This will probably just languish around as a four dollar Planeswalker like pretty much all Chandra's not
Torch of Defiance
have over the years.
Chandra's Incinerator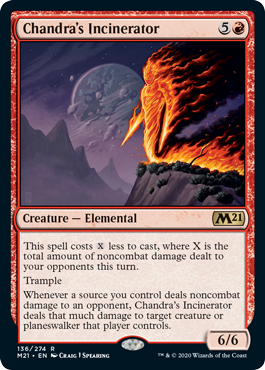 Now this, this is a card with Chandra's name on it that I can see doing thing. Obviously, the hype factor for this card is for Eternal constructed formats where this damned beast of a card could easily hit the table for half (or less!) it's printed cost thanks to some direct damage to the dome. But this could easily have an place in Commander too, as the bottom ability that spreads the love around could really mess up a board. Play Incinerator here, do some
Earthquaking
for five and wipe most of the board, then you get a good lump of damage to spread around to anything that survived. Commander definitely isn't the primary format it'll slot in for sure, this cards is definitely bent toward being pushed in Constructed, but a little nudge from that format could go a long way. As is, the card is a buck right now, I can think of way worse things to be buying than something that could wreck up Modern and Pioneer once the apocalypse is over and people are huddling in convention centers across 'Murica to shuffle up.
Conspicuous Snoop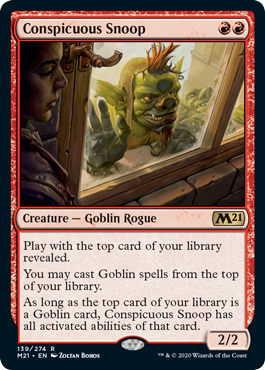 Just a quickie because obviously there's hype around this for Modern; I think the card is neat, I'm not sure that deck goes anywhere in even Modern honestly. I think the question is how resilient the deck is if Snoop here dies because he's as fragile as pretty much anything can be in that format between Path, Push, and Bolt. I mean, it's a great little combo for sure - and if you don't know, basically the combo is
Boggart Harbinger
puts
Kiki-jiki
on the top of your library, Snoop copies Kiki's ability, and then you just make a bunch of tokens and pop them at your opponent in some way, like with
Sling-gang Lieutenant
- and you can win on turn three. But, like I said, that combo seems like a hell of a glass cannon in a format like Modern packing the kind of removal it does, but if Snoop can fit a goblin shell that can win on Aggro alone and the combo is a bonus, then more power to it. As is, I just want to thank it for making me an extra hundred bucks flipping Harbinger's while hype for this deck type is maxed.
Double Vision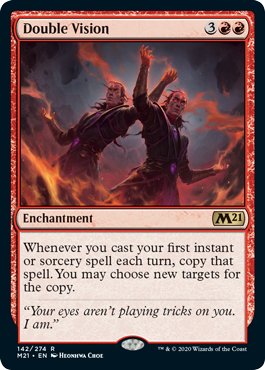 One thing that Commander players love to do is double crap. Double mana, double counters, double tokens, and especially doubling spells. Double Vision is a bit of an investment, though, because you are essentially taking a turn off at the point where the average game is getting pretty fierce and you're hoping to untap and take the game over an extra spell a turn from then on. If you do you just might too. Untap, double up a
Time Warp
, use those two turns to set up another extra turn spell; maybe you get something to put Temporal Mastery on top and really go wild. That's kind of the chain you need to run with this because it's not like a
Thousand-Year Storm
where you untap with it and more or less win the game, but it's a tried and true line in spell-slinger Commander for sure. Copies of these are already basically seventy cents each if you buy enough of them and there's plenty of them out there. It'll take while but this should be worth a mass pick up for sure.
Fiery Emancipation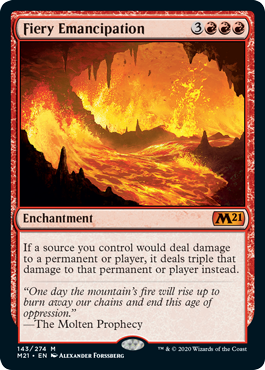 So you think doubling stuff is erotic as hell in Commander, have you ever tried tripling? You may as well break out the wet wipes, this is basically an orgasm on a card. It is also, IMO, just cheap and easy design by WotC as they continue to try to cash in and pander to Commander popularity and makes me worry about the future of the format if they have to keep resorting to this gimmick, as this card and
Nyxbloom Ancient
would lead me to believe they will continue to do in the future. But here we are and this effect is probably as powerful as we all expect it to be. Tripling mana is one thing, if you drop your Nyxbloom as soon as you can at least there's a turn for it to die before it just gives you all the tools you need to win the game. Fiery Emancipation means that if you already have a well setup board state going, you probably just kill a player on the spot. Now, of course, that puts a HUGE target on your back so when you take aim with this doozy you best not miss, but you're packing a howitzer with this card, so yeah. That power comes with a price though, and right now this is sitting at eight bucks each if you buy them bulky enough to get a good shipping discount. I honestly don't know how much lower it'll go even if things are just getting opened. Nyxbloom Ancient went to about half it's release price (from twenty down to ten) within a month of release and has done nothing but go back up to that original mark of twenty bones in the past six months. I think that's what happens here too. This was about twelve dollars going into the weekend, so I think you have three more weeks to wait it down to six dollars, buy all that you can handle, and it'll be back over ten by the time 2021 actually rolls around, provided we aren't all dead by then. Maybe if we're lucky it's just, y'know, work camps run by Amazon or whatever as we become a fascist failed state and we're lucky to have guards that benevolently let us sneak in cardboard game pieces.
Well, on that bright and cheery note, I'll call this one done and come back in a day or two with Green and yeah. Stay safe out there everyone!