Alright, back to this. First off, thanks to anyone who reads this, you're absolute class. I know it's still mostly just me kind of typing words into the abyss that is the internet but still, much like the Twitch streaming thing I picked up during this viral apocalypse, it's been a nice hobby indulgence to help keep focus off the downsides of the world out there right now. Also, just another quick note, and I probably should have mentioned this earlier because it was very much a "sore subject" kind of deal back when I was writing regular comic book articles, I am in no way trying to "deflect credit" or whatever all to the writers of these runs I talk about here. Obviously, artists, colorists, inkers etc all make the comic book magic work as much as anyone does in their production, but since I'm usually covering runs of books that are like, fifty to a hundred issues long, they almost always have a handful or more of artists that come along and help drive the book. Like in the case of this next series covering Jason Aaron's THOR era that just wrapped last year, there's tons of amazing artistic talent that worked on the series to make it as iconic as it was like Esad Ribic and Russel Dauterman and so on and so forth, but for header purposes it's just easier to simply say "Jason Aaron run" because, y'know, he wrote the whole thing. Credit will always show up where it's due, I always want to make sure artists get credit on their sections of a lengthy collection of books but for simplicity's sake, yeah.
Anyway, how about we actually start talking about that run which, to be perfectly honest, I think may just be the best era of THOR I've ever experienced, but that may not mean the most here since I've probably only read a couple hundred issues of Marvel's version of the Norse God of Thunder in my comic book reading career.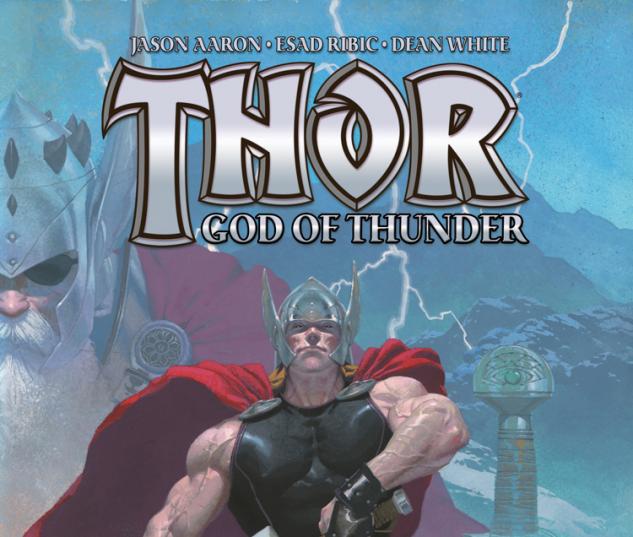 I heap this high praise upon this run for one main reason: This half decade era of Marvel's Norse pantheon reveled as much in it's brand of "epicness" as it did its irreverence. Not to say Jason Aaron and those involved spent all their time cracking wise at this brand of godlike lore but for every instance where we would get something like, well, a Gorr the God Butcher in the opening arc of this era, Aaron and company would make sure to spin a tale of a younger, immature Thor who makes drinking buddies with a doggy-looking dragon. Trolls are eaten. Basically, this run revels in everything that makes both comic book ridiculousness and Norse revelry such ridiculous fun but with that twinge of "fuck yeah!" adrenaline running down your spine from seeing a centuries, old mass murderer of gods being beaten down with magic hammers by three Thors from different time periods plus his granddaughters.
That's the culmination of the opening salvo to this run, the "God of Thunder" series and this Gorr the God Butcher introduction, which is easily one of the most vicious and harrowing Thor stories I've ever consumed. Aaron, joined by one of the most epically polished comic book artists in the game, Esad Ribic, just pitch perfectly show us one of the best renditions of Marvel's hammer-slinger because it might be him at his most human. It starts off with the normal doses of whimsy and brashness you would expect from the Odinson but then turns quickly into something we don't usually see expressed on the god's face: pure fear. Thanks to the handy-dandy trope of some time travel, Aaron and Ribic in very short order establish Gorr as a force of terror so great that he haunts Thor for literal millennia. From rendering a more youthful Thor paralyzed by the trauma of his first run in with Gorr all the way to the bone-weary version of Thor thousands of years down the line who just wants to collapse alongside the crumbling Asgard he rules over, Gorr is a pillar to the God of Thunder's very existence, even if he only shows up every thousand years or so. Every issue is a cool piece of puzzle that makes a picture of pure awesomeness as it develops over ten issues and several thousand years, establishing Gorr as a merciless yet actually tragic figure (as we see in his origin issue "What the Gods Have Wrought") that haunts the God of Thunder to his core; no small feat from both a character building standpoint and a scripting one.
Oh, and it of course looks glorious. Ribic's line-work is the perfect balance of playful when it needs to be and then packs pure power when things get really moving. The man just has such a gift for scope, knowing exactly how to frame a set of panels that will go from standard posturing to a jaw-dropping splash for the "breath-taking" effect the juxtaposition will produce, or just having a great sense of how to sequentially ramp up the energy in a scene over a handful of panels. I would say it's the absolute best possible skillset you could hope for when it comes to pencilling a Thor comic, but I need to save a lot of praising words for the Dauterman addition to the run the next volume over.
The second half of the "God of Thunder" saga makes a miracle out of a comic book industry "staple" (at least since the 2000's began) and in its own right makes this run impressive: It has Jason Aaron take what was obviously a movie-related use of Malekith the Accursed (as he was the villain in the Thor movie sequel of the same time frame) and take him beyond just being a simple "mandate." Aaron and all the company around him went to great lengths to make Malekith more than just a returning flavor because there was a spotlight on him, Malekith became a Marvel Universe-level threat that plagued the God of Thunder (in all the godly variants) for the majority of this era and became the focal point of a company-wide event, "The War of Realms." It does seem like a rather innocuous reemergence for the dark elf, but there's enough meat on the bone to see how it could be grown into a universal threat, which is the crux of why this Thor run is so excellent; the world-building is as good as it gets for an establishment title like this Marvel icon and the little things here and there at the beginning pay dividends literally dozens of issues later.
Essentially, Malekith raises enough of a ruckus across the Realms that it causes Thor to do somethings he's not particularly great at; playing politics and playing with others that aren't the Avengers. Teaming up with representatives from various other tribes across the Realms - the Giants, trolls, dwarves, elves, etc - what looks like a standard "mischievous" villainous jaunt by Malekith ends up being the beginning of power-grabbing machinations by the dark sorcerer, but the story starts out as playful as can be given the circumstances, largely in part to the oddly jocular adventures of Thor's "League of Realms" compatriots. Between drinking contest with the giant of the group, the dwarf of the group, Screwbeard, constantly wanting to just blow everything up, and stuff like Thor's average reaction to the troll of the group to be to punch him in the face, the mission here ends up being full of quality gags and one-liners that really do make you think that it's going to be more a one-off adventure than something that is the first domino to fall leading toward near-oblivion for the Realms. "Escalation" is definitely the other 'e'-word that Aaron was masterful at when it came to this run, alongside "epic."
On the way to the real, real big shakeup of this book that I'll start the next part of this series off with, Aaron really ramps up that escalation with the last "God of Thunder" arc by moving from the Malekith stuff to amping up some catastrophic events the future Thor is dealing with in the wake of Gorr and by introducing a new bag of vile personified to antagonize Thor, Dario Agger. Dario is the new head of long-running Marvel universe corporate sleeve outfit Roxxon and is basically greed personified. He's also a frikkin minotaur and targets Thor specifically. Thor is left to team with another new character of Aaron's creation, SHIELD agent and potential love interest Rosalind Solomon and, well, it's excellent. It's all excellent.
The world-building is excellent. Going from Malekith who is a known quantity to Agger who is an immediate presence and rival to Malekith's despicableness starts to put some extra balls into Thor's hands for the juggling and properly ramps up the tension of the book. That said, the adventuring remains excellent. Agent Solomon plays off Thor perfectly in both how able she is and the flirtatiousness they have toward each other and helps cut through some of the horrors Thor has been enduring between the two villains. The cuts to the future are excellent, both with their amusing interactions via Thor's granddaughters and then just the sheer scope of destruction they and Papa Thor are being privy to at this part of the timeline, which is essentially the end of time and the death throws of the universe. Yippee!
The book is just excelling at this point though, two years(ish) into the run. Between the characters and how they bounce off each other, the ever-increasing stakes as Aaron and his compatriots start to up threat levels with each and every arc despite starting off with a doozy of a tale with the Gorr saga. While each and every arc does keep heaping more and more calamitousness onto the god's plate the book does well to keep a playfulness about it, largely in part thanks to these side-characters like Roz and the Granddaughters of Thunder. And it always, always looks glorious thanks to having a hell of a rolodex of top-quality artists to take the reigns for an arc or a one-off story. Simply, this was just how an "instant-classic" run should be building itself for the long-haul. The fact that it immediately shifts into a universe-shaking plot-twist starting up the next volume and really throwing everything for a loop after all this effort just puts this run up on a tier that only the most special creative tenures reach.
And that will be that for a couple more weeks before I come back with the "Goddess of Thunder" material. Sorry this was a bit longer, I kind of focused a bit more on the Twitch-type stuff recently than reading and writing about comic books. I also kind f need to start reading more comics again so I have more runs about, so I'm doing my first STARMAN reread in like a decade. Thanks again for reading, I'll be back sooner than later, hopefully. Cheers!